Get ready for picnic season with meal-elevating picnicware sets to add serious style points to outdoor get-togethers.
Welcome picnic sets to the jungle
Put the fun into dining outdoors with our colourful tropical jungle picnicware range, featuring elephants, tigers, monkeys and birds in lush foliage and magical settings. The range includes plates and bowls of various sizes and a useful tray for taking drinks into the garden, all made from a lightweight but durable bamboo and melamine blend. Plus, there are co-ordinating plastic tumblers and highball glasses in sets of four, as well as a picnic jug and lemon-shaped platters to add zest to your serveware.
Can't get enough of the tropical trend? Read more about tropical-botanical home decor here.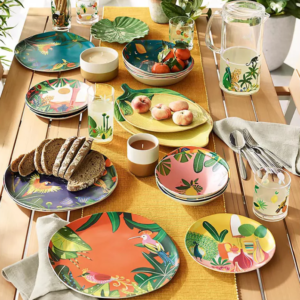 Take your picnicware under the sea
If you're powerless to resist anything with an ocean theme, you'll love our mix and match sealife picnicware and serveware. In a classic blue and white palette, the range includes plates and bowls decorated with watercolour-style illustrations of fish, shells, starfish and seahorses. There are all the extras you need for an outdoor gathering, from a chip and dip bowl to a drinks dispenser, plus coordinating plastic drinkware and a foldaway cool bag that collapses for easy storage between picnics.
Rain stopped play? Head indoors with our classic crockery, which features similar blue fish designs (as well as lemon- and palm-print options) – read all about it in our dinner-set round-up.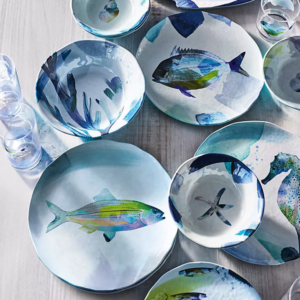 In the pink at your picnic
We've expanded our kitschy-cool flamingo-themed plastic glassware range to include flamingo-themed picnicware ready for a season of outdoor eating and drinking. The range includes plastic dinner plates, side plates and cereal bowls decorated with an all-over repeating pink flamingo design. Complete your picnic set with drinkware featuring flamingos in a tropical beach setting – choose from plastic highballs, tumblers and wine glasses in sets of four, plus a plastic picnic jug to fill with fruity soft drinks or a summery party punch.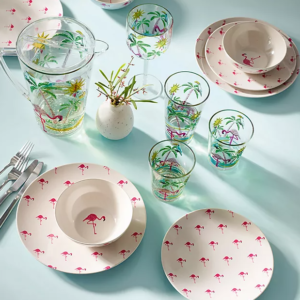 Picnicware to make a rainbow connection
Add joyful colour to your picnic kit with our rainbow bright plastic picnicware which includes plastic dinner plates, side plates and handy bowls which are the perfect size for pre-dinner nibbles to end-of-the-meal pudding. The range is big on plastic glassware with shatterproof wine glasses, plastic champagne flutes and picnic gin glasses, plus tumblers and highballs, all of which come in sets of four. There's also a delightful rainbow drinks dispenser to fill with cool-you-down beverages from fruit-infused water to boozy summer cocktails.
And if you're planning to refresh your garden for the season, check out our guide to garden furniture.