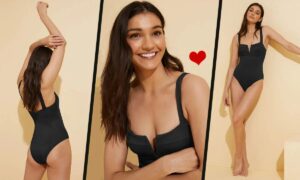 Marks and Spencer shoppers are loving the new tummy-control swimsuit and describing it as 'perfect' for the summer, calling it a very 'flattering' piece of clothing.  So we thought we should check out this revolutionary item of clothing.
At £29.50 you can consider such a piece to be a bargain and it is available in sizes 8-24.  It is therefore not surprising it is selling fast, so you'd need to act fast in order to secure one. 
Some shoppers have found that sizing up gives them a better fit, but it's better to be sure by trying in-store where fitting rooms are available.
If you're looking for an excuse to get out and explore this summer, Marks and Spencer Sparks customers are set to receive 50% off at over 130 English Heritage sites this summer following the announcement of a partnership with English Heritage. 
This will create the perfect opportunity for a family day out, or a peaceful opportunity for those just looking to explore and connect with our British heritage. You can find out more about this announcement including participating sites here. Sparks members will receive a unique promo code via their Sparks Hub on the M&S App, which they can then use to claim the 50% discount when visiting one of the participating heritage sites. Once there, customers can also enjoy 10% discount on items bought from any on-site shop/café*. Alternatively, you can grab some picnic food from Marks and Spencer, along with a picnic basket and picnic blankets when you're next in-store, because it's officially picnic season after all!