With the summer at hand, we can look towards a change in the foods we eat. From picnics and barbecues replacing a winter Sunday's roast, to summer vegetables filling our plates and a nice cold ice cream to cook us down. We're taking a look at what you can expect to be in season this July courtesy of Tesco.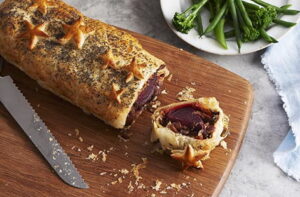 Beetroot is one of the more common summer vegetables, perfect for any home made salads especially for a barbecue! Just be sure to rinse your hands after preparing them to avoid purple stained fingers! If you're not using them in a salad, you can make this luscious beetroot wellington recipe on offer from Tesco. In just 7 steps you can have a wonderfully tasty dish ready for the dinner table. If you fancy something a little bit lighter, and avoiding any waste, why not try this beetroot fritters recipe where you can make a sticky relish made from the beetroot stalks.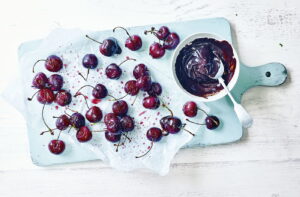 Another tasty option is Cherries, and by roasting the cherries you can enhance their natural sweetness and scrumptious flavour. Add a little chocolate dipping sauce and you'll have a quick dessert dish at the ready that will give you a true taste of the british summer!
Serves 4
5 mins to prepare and 5-10 mins to cook
290 calories/serving
Ingredients For the sauce
400g cherries
2 tbsp honey
2 tbsp kirsch (optional)
1 tsp groundnut oil
For the sauce
100g dark chocolate
50ml double cream
1 tbsp golden syrup
2 tsp kirsch (optional)