Give your home the wow factor with these top picks from Marks & Spencer.
One easy way to level up your home is with matching pots and pans. Marks & Spencer's cast aluminium casserole dish comes in four sizes, from three to seven litres, and is a customer favourite for its lightweight and hob-to-table good looks. The versatile cast aluminium roasting tray comes in two sizes – stick it in the oven to roast meat and veggies or use it on the hob to make gravy. The range also includes a non-stick griddle pan that's great for giving meat and veg that chargrilled look and taste.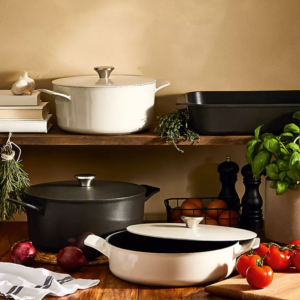 Make your pantry, cupboards or shelves aesthetically pleasing by decanting products in matching storage containers. It's a practical move that makes it easier to see what's in your cupboards, so you waste less; plus you can spot immediately when you've nearly run out of something. Their square and rectangular stackable storage container sets are customer favourites because they maximise cupboard space, come in a variety of sizes, and make kitchen cupboards, pantries and open shelving look neat and tidy.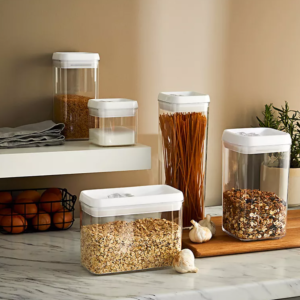 One of the quickest and easiest ways to update your living room or bedroom – and add colour and texture – is with a cushion or two. Marks & Spencer's sumptuous velvet cushions come in a choice of on-trend nature-inspired colours, opulent dual tones, go-with-everything neutrals and softer shades, such as blush pink. Add a couple of cushions to your bed for a super-stylish look or pop one or more on an armchair or sofa to create a cosy spot where you can sit and relax.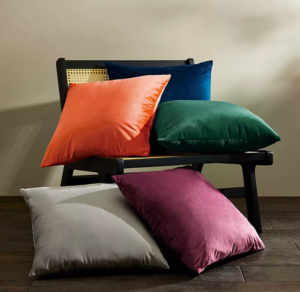 Adding a stack of luxurious super-soft cotton antibacterial towels is a simple and effective way to give your bathroom an upgrade and turn a soak in the bath into a spa-like experience. After all, what could be more of a treat than stepping out of a relaxing bath into a warm, fluffy towel? With a rainbow of 24 colours to choose from, there's sure to be a shade to match your interior. Even better, at just £10 for a bath towel, they're great value, too.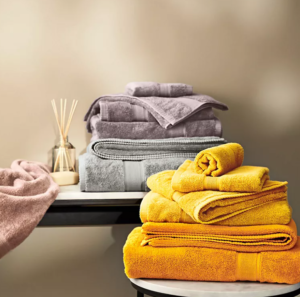 Sculptural vases and vessels make regular appearances on stylish social feeds.  Decorative items in their own right, sculptural vases can transform interiors in an instant, even if you don't have flowers or foliage to fill them. Group vases and vessels in similar hues and shapes to create a cohesive display.