Recipes Dad will love from Tesco!
Last-minute plans for fathers day? Don't panic, with these 3 recipes you'll give dad a Father's day to remember!
Sunshine eggs with chorizo and potato hash recipe
Start Father's day the right way with this hearty dish that's brimming full of brightly coloured peppers, chorizo and Desiree potatoes, topped with beautifully fried eggs. It takes just 10 minutes to prepare and 30 minutes to cook.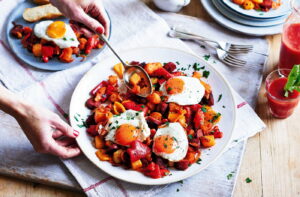 Reggae drumsticks with pineapple chutney recipe
Make the most of the weather with this exotic barbecue recipe, with the flavours of the Caribbean on your grill. These sweet and smoky Reggae chicken drumsticks are the perfect Father's Day barbecue inspiration! Create the perfect pineapple chutney with a devilish kick from a birds-eye chilli – enough to make you hot under the collar but wanting more.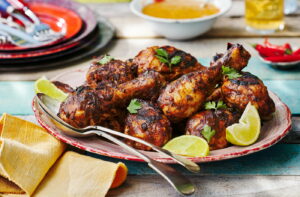 Vegan 'steak' and chips with peppercorn sauce recipe
Why not try a vegan dish this Father's Day? Meaty oyster mushrooms take the place of beef in this easy vegan steak recipe from Derek Sarno. Use a Wicked Kitchen rub to add flavour and make sure to press the mushrooms firmly down in the pan for show-stopping 'steaks' with crispy edges and a super-juicy centre. This delicious dish takes just 5 minutes to prepare and 30 minutes to cook!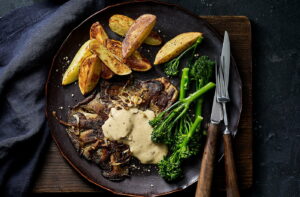 Visit our Tesco store today for all of your Father's Day recipe inspirations!